I am sick of hearing about the McNabb situation, and I am hoping the team moves past it with a winning record in the second half, so I want to try to stay positive and talk about something else. Enjoy.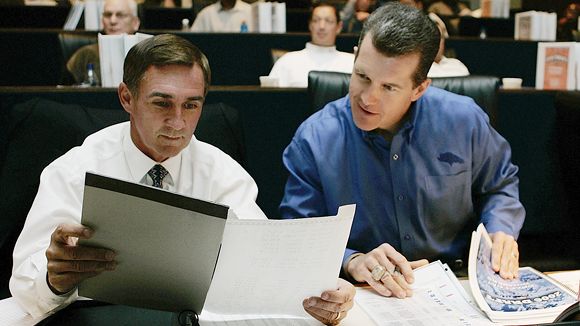 The knock on Mike Shanahan was that in Denver, he wasn't able to successfully juggle coaching and personnel duties. Looking back on his track record in Denver, I am not entirely sure that's fair. Now, in Washington he has a real General Manager in Bruce Allen who's strong suit appears to be contract negotiation (and lately, public relations) it's safe to say that Coach Shanahan still has a big say in acquiring players, and I don't see a problem with that. In his last 5 years as the head football guy in Denver they went 47-33 with two trips to the playoffs (including the AFC Championship game in '05). They were a very competitive team, let's look at his drafts from that time period (2004-2008)
2004
Linebacker D.J. Williams was their first pick at 17th overall. He never made the pro-bowl but he was an excellent player in Denver. DE Will Smith, was selected right after him, RB Steven Jackson was picked a few spots later down but it's hard to argue with Williams there.
Tatum Bell was picked in the second round and had a couple really good seasons in Denver including one for over 1,000 yards.
Not a lot else there for Denver, but it was a weak draft overall once you got out of the first round and going down pick by pick it's hard to see one where they really missed on a guy who could help them.
2005
CB Darrent Williams was their top pick here, and he was senselessly murdered on New Year's day in 2007. He was on his way to becoming a solid NFL corner though. After that Shanahan selected two more defensive backs trying to rebuild a depleted secondary. Both his selections, Karl Paymah and Domonique Foxworth are decent players who are still in the league and have over 70 games a piece since being drafted.
He gambled on Maurice Clarett in the third round of this draft. Many consider it to be a major reach based on Clarett being out of football for a year and his lack of maturity, and perhaps it was, but Clarett had shown tons of promise at Ohio State. With three third round picks, and no selections until the 6th round Shanahan went for it and took a guy he felt he could mold into a star. Unfortunately the experiment failed terribly and Clarett lacked the maturity, discipline and common sense to make it in the NFL.
Finally, though is didn't stay in Denver long, Shanny drafted Center Chris Myers in the 6th round who went on to be an everyday starter for Denver and later the Texans.
2006
Jay Cutler was the first pick for Denver. The Shanahan-Cutler marriage was broken up after only 3 seasons once Shanahan was fired in Denver but Cutler was a Pro-Bowl player during that time with two outstanding seasons as a starter. It was an excellent pick, and under Shanahan's guidance it's likely Cutler's career would have progressed much differently.
In the second round he drafted TE Tony Scheffler who was a standout player for years in Denver before signing with Detroit and landing a big extension.
Brandon Marshall was selected in the 4th round and soon became one of the NFL's elite young wideouts.
Also in the 4th round was DE/LB Elvis Dumerville who developed into an elite pass rusher.
Last but not least, G Chris Kuper was drafted in the 5th round. He's been a standout player on Denver's offensive line ever since.
2007
The Broncos were severely limited in picks for the 2007 draft which was mostly weak anyway. DE Jarvis Moss was a bust, but they also got DE Tim Crowder who developed into a starter for Denver and later the Buccaneers. Ryan Harris was selected in the 3rd round and despite struggling through injuries is a fine RT. Lastly, Marcus Thomas was selected in the 4th round, and while not a regular starter, he has appeared in every game since he was drafted.
2008
2006 was an excellent draft for Denver, but 2008 might rival it. They selected an elite LT in Ryan Clady with their first pick. In the second they got WR Eddie Royal who has been a star for the Broncos. C/G Kory Lichtensteiger was picked in the 4th round and we all know he went on to start for the Redskins. Ryan Torain was picked in the 6th round and has shown a lot of promise. FB Spencer Larsen was picked in the 6th round and still starts for the Broncos but perhaps the best of all was 7th rounder RB Peyton Hillis. Shanahan's predecessor foolishly dumped Hillis to Cleveland last season but Hillis has been a star for the Browns with several 100 yard games as well as being a huge weapon in the passing game.
-----
It's a very solid draft history his last 5 years in Denver, and that's only part of it. He was also the guy who traded Clinton Portis for Champ Bailey and a second round pick (a veritable steal!). He also burned the Redskins again on the Ashley Lelie and Jason Campbell trades. He traded WR Javon Walker for a second round pick, signed K Matt Prater, signed S John Lynch signed WR Rod Smith as an undrafted free agent... etc. etc. the list goes on. I'd say Shanahan's record as GM is pretty good. (Especially when compared to the Redskins!) With a real GM to make the personnel moves based on Shanny's input, he ought to be able to focus on what he does best: coaching! It seems to me that's good news for Skins fans!